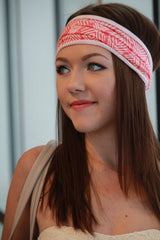 *PLEASE USE THE DROP-DOWN MENU TO SELECT WHETHER YOU WOULD LIKE TO ORDER THE HAT, HALO HEADBANDS, MASK, or SCRUNCHIE IN THIS PRINT! THE ORDER WILL DEFAULT TO HEADBANDS! THANKS!* For more information on our fabric masks, please read the description linked here.
This Halo has a beautiful rich coral color, with a commanding print.
First Halo shown is Doubled Over, second Halo is Full Width. Fabric is a cotton/spandex blend. 
Child Halos and Pompom Hats are recommended for children 6 months-2 years old. Infant for 0-6 months.
Note: Masks are non medical grade, are fabric only, and do not replace social distancing.  See more information on our masks description page.