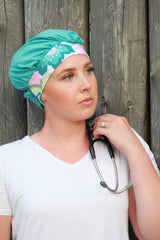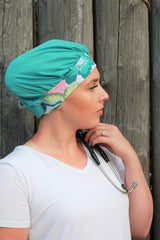 We are offering full coverage scrub caps! The cap shown in the photo is a Full Top scrub cap and the model's hair is longer and in a loose bun underneath. The scrub caps shown on the top row in the 3rd picture are also Full Top and the bottom row is Regular Top (a little shorter on top). If you would like it a little bit shorter on top, in the same style and circumference around the band, just less fabric on top, please comment at check-out that you would like a Regular Top scrub cap. For a very short/ tailored style scrub cap, you can comment/ request: Tailored Style, as shown in the last photo.  Please comment at the check-out as to which style you would like (Full Top, Regular Top, or Tailored Style). 
We will send you an assortment of colors unless you have a specific request, you can add it to the comments (for example: neutral tones, all solids, no floral, bright colors, etc), otherwise the prints will vary. The drop down menu gives you the option to select a colorful pattern or solid throughout. If you have a specific color request please add that to the comments!
Bulk discounts available. Please contact us for more information. 
Thanks so much!