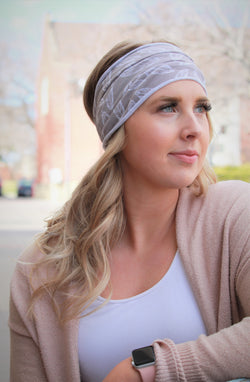 *PLEASE USE THE DROP-DOWN MENU TO SELECT WHETHER YOU WOULD LIKE TO ORDER THE HAT, HALO HEADBANDS, MASK, or SCRUNCHIE IN THIS PRINT! THE ORDER WILL DEFAULT TO HEADBANDS! THANKS!* For more information on our fabric masks, please read the description linked here.
We love this neutral, soft Halo! Great with any outfit and for any season! Halo shown is in a Full Width style.
Child Halos and Pompom Hats are recommended for children 6 months-2 years old. Infant for 0-6 months. Adult hats can always be folded up for in-between sizes!
This fabric is a soft, cotton/ spandex blend fabric that is great for all seasons. 
Note: Masks are non medical grade, are fabric only, and do not replace social distancing.  See more information on our masks description page.